Welcome to Year 5 & 6 - KS2 (Key Stage 2)
The Year Six Team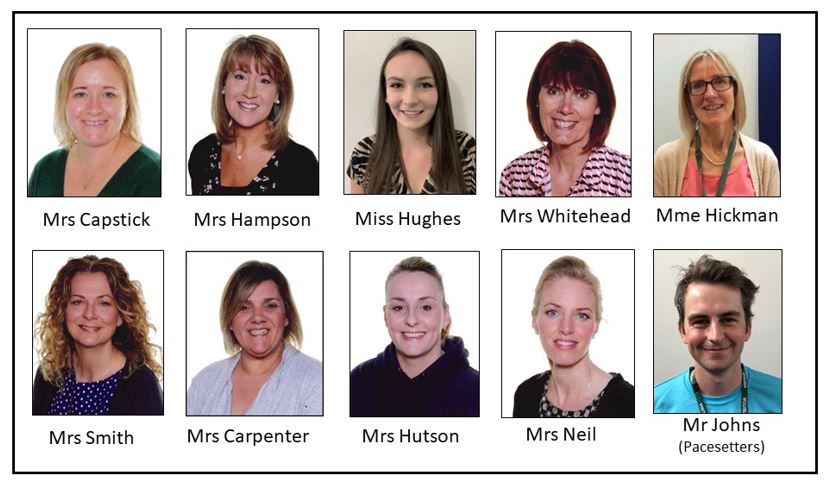 Mr Johns (from Pacesetters) teaches PE on a Wednesday.
Madame Hickman teaches French on a Thursday.
Class Names
Magpies - Mrs Capstick and Mrs Whitehead
Humming Birds - Mrs Hampson
Doves - Miss Hughes
Communication with the Team
Always maintain social distancing when talking to members of staff.
Morning communications when children arrive must be brief (teachers are busy starting lessons). If needed, hand over a written note to provide more detail and we can phone you during the day.
Teachers are usually available at the end of each day for a short chat if needed.
PE Days
Magpies - Monday (indoors) and Friday (outdoors)
Humming Birds - Tuesday (indoors) and Friday (outdoors)
Doves - Monday (indoors) and Wednesday (outdoors)
Equipment
Water bottle (named)
Pencil case
Packed lunch bag
Small bag
Due to very small cloakrooms it is helpful if children only bring a small bag into school. To support the transition to secondary school we encourage Year 5 and 6 to take responsibility for ensuring they have all the resources needed each day. Checking their school bags daily is a good habit to get into.
Homework
Reading - It is expected that your child reads at home daily for at least 10 minutes with an adult. Re-reading a book several times, becoming familiar with tricky words in a book and asking questions to develop reading comprehension skills can be useful.
Times Tables - Both Year 5 and 6 should practice all times tables to ensure their knowledge remains sharp.
During the spring term Year 5 will continue with an English or maths activity for homwwork each week. Year 6 will use their SATS revision guides for homework. Year 6 will be set their revision guide activity on a Friday and returned on a Wednesday.
| Homework | Going Home | Return |
| --- | --- | --- |
| English or Maths | Wednesday | Monday |
| Spelling | Friday | Wednesday |
| Reading | Daily | |
| Times Tables (TT rock Stars) | At least 3 times a week | |